Grammy Awards, Ozzy e Wet Leg trionfano nelle categorie rock. Delusione Måneskin
Ozzy Osbourne, Wet Leg e Brandi Carlisle dominano le categorie rock e metal dei Grammy Awards. Niente da fare per i Måneskin candidati come Best New Artist
Si è svolt ieri sera alla Crypto.com Arena di Los Angeles la cerimonia per l'assegnazione dei Grammy Awards, giunti alla 65°edizione. Mattatori della serata per quanto riguarda le categorie rock, metal e alternative sono stati Ozzy Osbourne, Wet Leg e Brandi Carlisle.
Grande delusione per i fan dei Måneskin che - candidati nella categoria Best New Artist - sono tornati a casa a mani vuote.
Serata storica, invece, per Beyoncé che è diventata l'artista vincitrice di più Grammy Awards di tutti i tempi raggiungendo un totale di 32 statuette vinte su 88 nomination.
I vincitori rock e metal dei Grammy Awards
Sono Ozzy Osbourne, Wet Leg e Brandi Carlisle gli artisti trionfatori nelle varie categorie rock, metal e alternative della 65° edizione dei Grammy Awards.
Durante la serata di gala che si è tenuta ieri sera alla Crytpo.com Arena di Los Angeles l'ex frontman dei Black Sabbath è stato premiato per il suo album "Patient Number 9" trionfando sia per il genere rock che per il metal.
Ozzy è stato premiato come Best Rock Album per "Patient Number 9" e nella categoria Best Metal Performance per 'Degradation Rules', brano registrato con Tony Iommi.
Il Principe delle Tenebre non è ovviamente andato a ritirare fisicamente il premio e ha mandato in rappresentanza il produttore Andrew Watt e Robert Trujillo dei Metallica che ha suonato il basso sul disco.
Nel ritirare il premio di Best Metal Performance, Watt ha voluto condividere con la platea il messaggio di Ozzy: "Mentre ero in auto per raggiungere l'arena ho parlato al telefono con Ozzy e mi ha detto di avere due messaggi per tutti voi: Vi amo tutti e andate a fare in culo!".
Nella categoria Best Metal Performance, Ozzy ha battuto i Ghost con 'Call Me Little Sunshine', i Megadeth, i Turnstile e i Muse, candidati a sorpresa con 'Kill Or Be Killed'.
Vincitrice nella categoria Best Rock Performance è stata invece la cantautrice Brandi Carlile con il brano 'Broken Horses'. La Carlile ha superato lo stesso Ozzy, in gara con la titletrack di "Patient Number 9" realizzata con Jeff Beck, Beck, Black Keys, Idles, Bryan Adams e Turnstile.
Proprio i Turnstile hanno fatto registrare malcontento tra i fan della scena rock mondiale. La band americana, tra i live act più amati degli ultimi anni, era infatti candidata in ben 3 categorie ed è tornata a casa a mani vuote.
Dominatrici delle categorie alternative, invece, le Wet Leg. L'omonimo album di debutto della band inglese è infatti valso la vittoria sia nella categoria Best Alternative Music Album, dove hanno superato Arcade Fire, Big Thief, BJork e Yeah Yeah Yeahs, che in quella Best Alternative Music Performance con 'Chaise Longue'.
La sera precedente allo show, i membri superstiti dei Nirvana hanno invece ritirato un premio alla carriera. Durante la cerimonia dei Special Merit Awards, Dave Grohl, Krist Novoselic e Pat Smear sono stati premiati insieme ad artisti come Nile Rodgers, le Supremes e Ann e Nancy Wilson delle Heart.
A prendere la parola è stato il bassista che, citando Serve The Servants, ha detto: "Dicevano che Kurt fosse arguto, a volte saccente. Ha scritto 'Teenage Angst Has Paid Off' (la rabbia giovanile ha pagato) ed è effettivamente andata così. Leggo ancora la posta dei fan, ricevo lettere da tutto il mondo dai fan dei Nirvana. Ci sono un sacco di giovani, c'è una nuova generazione che ama i Nirvana e sono grato per questo".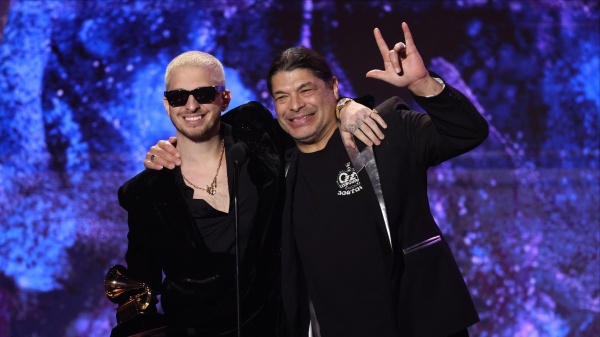 PHOTO CREDIT: John Salangsang/Shutterstock
Gli altri vincitori ai Grammy Awards 2023
Al di là delle categorie rock e metal, la protagonista assoluta è stata Beyoncé che, vincendo il premio per il miglior album nella categoria "Best Dance/Electronic" ha raggiunto il suo 32esimo Grammy su 88 nomination, diventando l'artista più premiata di tutti i tempi.
Le prestigiose categorie Album Of The Year e Record Of The Year sono state invece vinte da Harry Styles per l'album "Harry's House" e da Lizzo con il singolo 'About Damn Time', mentre Song Of The Year è andata a 'Just Like That' di Bonnie Raitt. L'ex One Direction ha vinto anche una statuetta per "Best Pop Vocal Album" e "Best Engineered album, non-classical".
Sam Smith e Kim Petras hanno invece portato a casa la statuetta per "Best Pop Duo/Group Performance".
Delusione, invece, per i Måneskin che, candidati nell'importante categoria Best New Artist, sono tornati a casa a mani vuote. Ad alzare la statuetta con il grammofono al loro posto è stata Samara Joy, cantante jazz americana che ha trionfato anche nella categoria Best Jazz vocal Album per "Linger Awhile".
Ecco i candidati e i vincitori nelle principali categorie dei Grammy Awards 2023:
Album of the year
Bad Bunny - Un Verano Sin Ti
Brandi Carlile - In These Silent Days
Coldplay - Music of the Spheres
Harry Styles - Harry's House – WINNER
Kendrick Lamar - Mr. Morale & the Big Steppers
Mary J Blige - Good Morning Gorgeous (Deluxe)
Best new artist
Samara Joy – WINNER
Record of the year
ABBA - Don't Shut Me Down
Brandi Carlile Featuring Lucius - You and Me on the Rock
Kendrick Lamar - The Heart Part 5
Lizzo - About Damn Time – WINNER
Mary J Blige - Good Morning Gorgeous
Song of the year
Bonnie Raitt - Just Like That – WINNER
DJ Khaled Featuring Rick Ross, Lil Wayne, Jay-Z, John Legend & Fridayy - God Did
Kendrick Lamar - The Heart Part 5
Taylor Swift - All Too Well (10 Minute Version) (The Short Film)
Best pop solo performance
Adele - Easy on Me – WINNER
Best dance/electronic album
Beyoncé – Renaissance – WINNER
Odesza – The Last Goodbye
Future – I Never Liked You
Jack Harlow – Come Home the Kids Miss You
Kendrick Lamar – Mr. Morale & the Big Steppers – WINNER
Pusha T – It's Almost Dry
Best musica urbana album
Rauw Alejandro – Trap Cake, Vol. 2
Bad Bunny – Un Verano Sin Ti – WINNER
Daddy Yankee – Legendaddy
Maluma – The Love & Sex Tape
Best pop duo/group performance
Abba – Don't Shut Me Down
Camilla Cabello and Ed Sheeran – Bam Bam
Coldplay and BTS – My Universe
Post Malone and Doja Cat – I Like You (A Happier Song)
Sam Smith and Kim Petras – Unholy – WINNER
Best country album
Miranda Lambert – Palomino
Ashley McBryde – Ashley McBryde Presents: Lindeville
Maren Morris – Humble Quest
Willie Nelson – A Beautiful Time – WINNER
Best R&B song
Beyoncé – Cuff It – WINNER
Mary J Blige – Good Morning Gorgeous
Jazmine Sullivan – Hurt Me So Good
PJ Morton – Please Don't Walk Away
Best pop vocal album
Coldplay – Music of the Spheres
Harry Styles – Harry's House – WINNER
Best dance/electronic recording
Beyoncé - Break My Soul – WINNER
David Guetta & Bebe Rexha - I'm Good (Blue)
Diplo & Miguel - Don't Forget My Love
Kaytranada Featuring Her - Intimidated
Rüfüs Du Sol - On My Knees
Best global music performance
Arooj Aftab & Anoushka Shankar - Udhero Na
Matt B & Eddy Kenzo - Gimme Love
Rocky Dawuni Featuring Blvk H3ro - Neva Bow Down
Wouter Kellerman, Zakes Bantwini & Nomcebo Zikode - Bayethe – WINNER
Best country solo performance
Kelsea Ballerini - Heartfirst
Maren Morris - Circles Around This Town
Miranda Lambert - In His Arms
Willie Nelson - Live Forever – WINNER
Zach Bryan - Something in the Orange
Best R&B performance
Jazmine Sullivan - Hurt Me So Good
Mary J. Blige Featuring Anderson Paak - Here With Me
Muni Long - Hrs & Hrs – WINNER
Best rap performance
DJ Khaled Featuring Rick Ross, Lil Wayne, Jay-Z, John Legend & Fridayy - God Did
Gunna & Future Featuring Young Thug - Pushin P
Hitkidd & Glorilla - FNF (Let's Go)
Kendrick Lamar - The Heart Part 5 – WINNER
Best metal performance
Ghost - Call Me Little Sunshine
Ozzy Osbourne Featuring Tony Iommi - Degradation Rules – WINNER
Best rock performance
The Black Keys - Wild Child
Brandi Carlile - Broken Horses – WINNER
Bryan Adams - So Happy It Hurts
Ozzy Osbourne Featuring Jeff Beck - Patient Number 9
Best rock album
The Black Keys – Dropout Boogie
Elvis Costello & the Imposters – The Boy Named If
Machine Gun Kelly – Mainstream Sellout
Ozzy Osbourne – Patient Number 9 – WINNER
Spoon – Lucifer on the Sofa
Best alternative music album
Big Thief – Dragon New Warm Mountain I Believe in You
Wet Leg – Wet Leg – WINNER
Yeah Yeah Yeahs – Cool It Down
Best traditional R&B performance
Babyface featuring Ella Mai – Keeps on Fallin'
Beyoncé – Plastic Off the Sofa – WINNER
Adam Blackstone featuring Jazmine Sullivan – 'Round Midnight
Mary J Blige – Good Morning Gorgeous
Best progressive R&B album
Cory Henry – Operation Funk
Steve Lacy – Gemini Rights – WINNER
Tank and the Bangas – Red Balloon
Best R&B album
Mary J Blige – Good Morning Gorgeous (Deluxe)
Chris Brown – Breezy (Deluxe)
Robert Glasper – Black Radio III – WINNER
PJ Morton – Watch the Sun
Best rap song
Jack Harlow featuring Drake – Churchill Downs
DJ Khaled featuring Rick Ross, Lil Wayne, Jay-Z, John Legend & Fridayy – God Did
Kendrick Lamar – The Heart Part 5 – WINNER
Gunna & Future Featuring Young Thug – Pushin P
Future Featuring Drake & Tems – Wait for U
Best comedy album
Dave Chappelle – The Closer – WINNER
Jim Gaffigan – Comedy Monster
Randy Rainbow – A Little Brains, A Little Talent
Patton Oswalt – We All Scream
Best folk album
Judy Collins – Spellbound
Madison Cunningham – Revealer – WINNER
Janis Ian – The Light At The End Of The Line
Aoife O'Donovan – Age of Apathy
Punch Brothers – Hell on Church Street
Best country song
Maren Morris – Circles Around This Town
Taylor Swift – I Bet You Think About Me (Taylor's Version) (From The Vault)
Miranda Lambert – If I Was a Cowboy
Willie Nelson – I'll Love You Till The Day I Die
Cody Johnson – 'Til You Can't – WINNER