Guns N'Roses, Axl Rose ospite del concerto di Carrie Underwood
Axl Rose ha cantato Welcome To The Jungle con Carrie Underwood durante lo show dell'artista americana a Los Angeles
Axl Rose è stato l'ospite a sorpresa di Carrie Underwood durante il live della cantautrice americana a Los Angeles.
Durante lo show di lunedì sera alla Crypto.com Arena, la Underwood ha dato il benvenuto al frontman dei Guns N'Roses per cantare Welcome To The Jungle.
Rose e la Underwood sono legati da un forte rapporto di amicizia e non una volta si sono esibiti insieme sul palco.
I Guns N'Roses sono attesi in Italia per una sola data nel 2023 al Circo Massimo di Roma.
Axl Rose e Carrie Underwood ancora insieme sul palco
Axl Rose e Carrie Underwood sono tornati ad esibirsi insieme dopo la collaborazione avvenuta lo scorso anno. Il frontman dei Guns N'Roses salì sul palco dello Stagecoach Festival ad Indio, in California, nel maggio del 2022 come ospite della Underwood.
In quell'occasione i due cantarono Sweet Child O'Mine e Paradise City, le stesse canzoni che hanno suonato due mesi dopo quando fu Rose ad invitarla durante lo show dei Guns N'Roses a Londra.
Lo scambio di cortesie tra Rose e la Underwood non si è però esaurito e nella serata di lunedì, la cantante ha invitato il frontman dei Guns N'Roses a duettare con lei sulle note di Welcome To The Jungle durante il concerto che ha tenuto alla Crypto.com Arena di Los Angeles.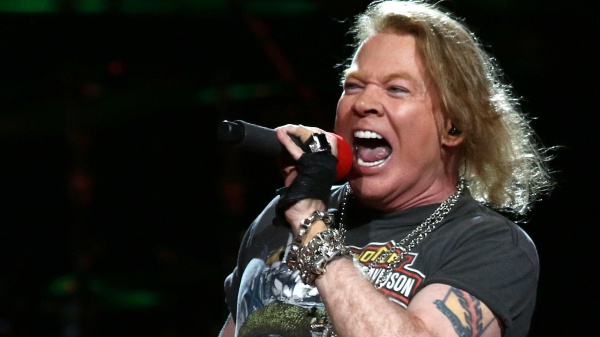 PHOTO CREDIT: Fotogramma
I Guns N'Roses in Italia nel 2023
Per chi volesse vedere i Guns N'Roses dal vivo, la band ha annunciato l'unica data italiana dello European Tour 2023.
L'unica tappa del tour mondiale in Italia sarà l'8 luglio 2023 al Circo Massimo di Roma.
La band torna nel nostro paese dopo l'ultima indimenticabile show allo Stadio San Siro di Milano l'estate scorsa e l'esaltante appuntamento a Firenze Rocks nell'estate del 2018, in qualità di headliner della seconda giornata del festival a cui seguì un'apparizione a sorpresa il giorno seguente durante il concerto dei Foo Fighters, con un'inedita performance sulle note di It's so easy, divenuta immediatamente virale sul web in tutto il mondo.
DATE DEL TOUR MONDIALE 2023
Mon Jun 05 – Tel Aviv, Israel – Park Hayarkon
Fri Jun 09 – Madrid, Spain – Civitas Metropolitan Stadium
Mon Jun 12 – Vigo, Spain – Estadio Abanca Balaídos
Thu Jun 15 – Dessel, Belgium – Grasspop Metal Meeting
Sat Jun 17 – Copenhagen, Denmark – Copenhell
Wed Jun 21 – Oslo, Norway – Tons of Rock
Tue Jun 27 – Glasgow, UK – Bellahouston Park
Fri Jun 30 – London, UK – BST Hyde Park
Mon Jul 03 – Frankfurt, Germany – Deutsch Bank Park
Wed Jul 05 – Bern, Switzerland – BERNEXPO
Sat Jul 08 – Rome, Italy – Circo Massimo
Tue Jul 11 – Landgraaf, Netherlands – Megaland
Thu Jul 13 – Paris, France – La Defense
Sun Jul 16 – Bucharest, Romania – National Arena
Wed Jul 19 – Budapest, Hungary – Puskás Arena
Sat Jul 22 – Athens, Greece – Olympic Stadium
Sat Aug 05 – Moncton, NB – Medavie Blue Cross Stadium
Tue Aug 08 – Montreal, QC – Parc Jean Drapeau
Fri Aug 11 – Hershey, PA – Hersheypark Stadium
Tue Aug 15 – East Rutherford, NJ – MetLife Stadium
Mon Aug 21 – Boston, MA – Fenway Park
Thu Aug 24 – Chicago, IL – Wrigley Field
Sat Aug 26 – Nashville, TN – GEODIS Park
Tue Aug 29 – Charlotte, NC – Spectrum Center
Fri Sep 01 – Saratoga Springs, NY – Saratoga Performing Arts Center
Sun Sep 03 – Toronto, ON – Rogers Centre
Wed Sep 06 – Lexington, KY – Rupp Arena
Sat Sep 09 – St. Louis, MO – Busch Stadium
Tue Sep 12 – Knoxville, TN – Thompson-Boling Arena
Fri Sep 15 – Hollywood, FL – Hard Rock Live
Wed Sep 20 – Biloxi, MS – Mississippi Coast Coliseum
Sat Sep 23 – Kansas City, MO – Kauffman Stadium
Tue Sep 26 – San Antonio, TX – Alamodome
Thu Sep 28 – Houston, TX – Minute Maid Park
Sun Oct 01 – San Diego, CA – Snapdragon Stadium
Sun Oct 08 – Sacramento, CA – Aftershock Festival
Wed Oct 11 – Phoenix, AZ – Chase Field
Mon Oct 16 – Vancouver, BC – BC Place