Metallica, ascolta la titletrack di "72 Seasons"
I Metallica hanno pubblicato il nuovo singolo "72 Seasons" che anticipa la release dell'omonimo album in uscita il 14 aprile
Dopo una serie di teaser online, i Metallica hanno pubblicato oggi "72 Seasons", titletrack dell'omonimo disco in uscita il 14 aprile.
Il dodicesimo album in studio della leggendaria band heavy metal californiana sembra mantenere la linea tracciata dalle canzoni del disco già condiviso.
Come già intuito con le precedenti 'Lux Æterna', 'Screaming Suicide' e 'If Darkness Had A Son', i Metallica sembrano essere tornati alle origini. Mai come nella titletrack il quartetto composto da James Hetfield, Lars Ulrich, Kirk Hammett e Robert Trujillo riprende le sonorità thrash potenti e veloci che gli hanno consentito di fare la storia del genere.
72 Seasons, il nuovo singolo dei Metallica
"72 Seasons" dà il tono a quello che sarà l'album composto da 12 canzoni e della durata di 77 minuti. L'epopea scritta da Hetfield/Ulrich/Hammett non è altro che l'incarnazione del concetto che sta dietro al titolo del nuovo disco, come precedentemente descritto nelle parole dello stesso James Hetfield: "72 stagioni. I primi 18 anni della nostra vita che formano il nostro vero o falso io. Il concetto del 'chi siamo' che ci è stato detto dai nostri genitori. Una possibile etichettatura del tipo di personalità che siamo. Credo che la parte più interessante di tutto questo sia lo studio continuo di queste convinzioni di base e di come esse influenzino la nostra percezione del mondo di oggi. Gran parte della nostra esperienza adulta è una rievocazione o una reazione a queste esperienze infantili. Prigionieri dell'infanzia o liberi da quei legami che ci portiamo dietro".
72 Seasons, il brano, è disponibile ora in streaming e in download, e come traccia istantanea con tutti i pre-order. "72 Seasons", l'album, sarà pubblicato il 14 aprile 2023 tramite la Blackened Recordings dei Metallica. Prodotto da Greg Fidelman con Hetfield e Ulrich, 72 Seasons è il primo nuovo album in studio dei Metallica dopo Hardwired...To Self-Destruct del 2016. Verrà pubblicato su 2LP 140g in vinile nero e varianti in edizione limitata, CD, digitale e in Dolby Atmos.
Metallica, il testo di 72 seasons
Feeding on the wrath of man
Shot down
Traumatic
Time haunted by the past
Long gone
Dogmatic
Although the die is cast


Shot down
Volcanic
But what is done is done and done
Look back
Psychotic
No chance before this life began


Staring into black light
Dominating birthright


Wrath of man
Leaching through
Split in two


Wrath of man
Crash into
Point of view


Wrath of man
Violence
Inheritance


Wrath of man
Thrive upon
Feeding on
72 seasons gone


Feeding on the wrath of man
Shoot back
Erratic
Mad seasons take their toll
New mask
Chaotic
Completely lost control


Shoot back
Fanatic
Wither under looming shadow cast


Slip back
Narcotic
Blinded by the ashes of the past


Staring into black light
Choking on the stage fright


Wrath of man
Leaching through
Split in two


Wrath of man
Crash into
Point of view


Wrath of man
Violence
Inheritance


Wrath of man
Thrive upon
Feeding on

72 seasons gone


Piercing through
Cut in two
Polarize
Point of view
Crash into
Paralyze


Feeding on the wrath of man
Man down
Barbaric


Quick fire machine gun thoughts
Deep seed
Stigmatic


Some have and some have not
Man down
Demonic


No mercy from the ghost within
Turn back
Hypnotic


There's breathing out but not back in
Staring into black light
Permanently midnight


Wrath of man
Leaching through
Split in two


Wrath of man
Crash into
Point of view


Wrath of man
Violence
Inheritance


Wrath of man
Thrive upon
Feeding on
72 seasons gone


Feeding on the wrath of man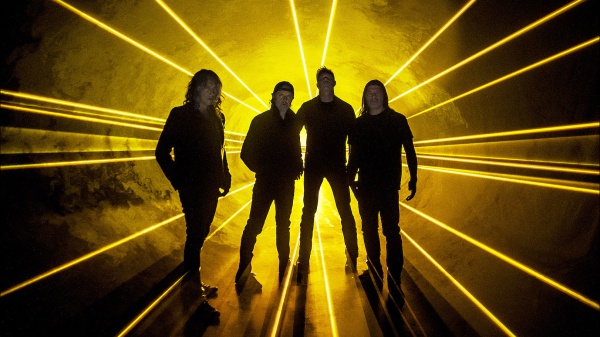 Il listening party in anteprima nei cinema italiani
Pur non avendo previsto concerti in Italia per il M72 tour, i fan italiani dei Metallica potranno comunque avere accesso ad un'iniziativa speciale organizzata per la release del disco.
Il giorno prima l'uscita di "72 Seasons", infatti, nei cinema di tutto il mondo avverrà il primo Listening Party globale dell'album.
Per una sola notte, giovedì 13 aprile, sarà possibile ascoltare integralmente 72 Seasons con un suono immersivo travolgente, in esclusiva per il pubblico cinematografico di tutto il mondo: ogni nuova canzone sarà accompagnata da un video musicale e da un commento esclusivo della band. Una serata indimenticabile per i fan che potranno vivere e ascoltare 72 Seasons per la prima volta alla vigilia dell'uscita del 14 aprile in un listening party esclusivo. 
L'anteprima mondiale dedicata a 72 Seasons è il secondo grande evento cinematografico dopo quello del 2019 di "Metallica and San Francisco Symphony: S&M²" che ha documentato la reunion dei Metallica e della San Francisco Symphony per celebrare il 20° anniversario dei concerti e delle uscite originali S&M (Symphony & Metallica).
Il tour M72 dei Metallica
Presentato in tutto il mondo da Liquid Death e Blackened American Whiskey (solo in Nord America) e promosso da Live Nation, il
tour M72
vedrà la band suonare
due serate in ogni città
visitata, con ogni
No Repeat Weekend
caratterizzato da
due scalette e formazioni di supporto completamente diverse.
Il tour M72 sarà caratterizzato da un nuovo e audace design del palco, che sposta la famosa
Snake Pit dei Metallica al centro del palco
. Per ulteriori informazioni sui biglietti per un solo giorno e per due giorni, sulle esperienze avanzate e altro ancora, visitare il sito web
https://www.metallica.com/tour/
Una parte del ricavato di ogni biglietto venduto andrà alla fondazione All Within My Hands dei Metallica. Fondata nel 2017, gli sforzi di AWMH per assistere e arricchire le vite dei membri delle comunità che hanno supportato la band, ha raccolto quasi 13 milioni di dollari - fornendo 5,9 milioni di dollari in sovvenzioni a programmi di carriera e istruzione tecnica negli Stati Uniti, oltre 2,5 milioni di dollari per combattere l'incertezza alimentare e più di 3,2 milioni di dollari per gli sforzi di soccorso in caso di disastri in tutto il mondo.
METALLICA
M72 WORLD TOUR 2023-2024
Thursday, April 27 2023 - Amsterdam NL - Johan Cruijff Arena
Saturday, April 29 2023 - Amsterdam NL - Johan Cruijff Arena
Wednesday, May 17 2023 - Paris FR - Stade de France*
Friday, May 19 2023 - Paris FR - Stade de France
Friday, May 26 2023 - Hamburg DE - Volksparkstadion
Sunday, May 28 2023 - Hamburg DE - Volksparkstadion
Friday, June 16 2023 - Gothenburg SE - Ullevi Stadium**
Sunday, June 18 2023 - Gothenburg SE - Ullevi Stadium
Friday, August 4 2023 - East Rutherford, NJ - MetLife Stadium
Sunday, August 6 2023 - East Rutherford, NJ - MetLife Stadium
Friday, August 11 2023 - Montreal, QC - Stade Olympique
Sunday, August 13 2023 - Montreal, QC - Stade Olympique
Friday, August 18 2023 - Arlington, TX - AT&T Stadium
Sunday, August 20 2023 - Arlington, TX - AT&T Stadium
Friday, August 25 2023 - Inglewood, CA - SoFi Stadium
Sunday, August 27 2023 - Inglewood, CA - SoFi Stadium
Friday, September 1 2023 - Glendale, AZ - State Farm Stadium
Sunday, September 3, 2023 - Glendale, AZ - State Farm Stadium
Friday, November 3, 2023 - St. Louis, MO - The Dome at America's Center
Sunday, November 5, 2023 - St. Louis, MO - The Dome at America's Center
Friday, November 10, 2023 - Detroit, MI - Ford Field
Sunday, November 12, 2023 - Detroit, MI - Ford Field
Friday, May 24 2024 - Munich DE - Olympiastadion
Sunday, May 26 2024 - Munich DE - Olympiastadion
Friday, June 7 2024 - Helsinki FI - Olympic Stadium
Sunday, June 9 2024 - Helsinki FI - Olympic Stadium
Friday, June 14 2024 - Copenhagen DK - Parken Stadium
Sunday, June 16 2024 - Copenhagen DK - Parken Stadium
Friday, July 5 2024 - Warsaw PL - PGE Narodowy
Sunday, July 7 2024 - Warsaw PL - PGE Narodowy
Friday, July 12 2024 - Madrid ES - Estadio Cívitas Metropolitano
Sunday, July 14 2024 - Madrid ES - Estadio Cívitas Metropolitano
Friday, August 2 2024 - Foxborough, MA - Gillette Stadium
Sunday, August 4 2024 - Foxborough, MA - Gillette Stadium
Friday, August 9 2024 - Chicago, IL - Soldier Field
Sunday, August 11 2024 - Chicago, IL - Soldier Field
Friday, August 16 2024 - Minneapolis, MN - US Bank Stadium
Sunday, August 18 2024 - Minneapolis, MN - US Bank Stadium
Friday, August 23 2024 - Edmonton, AB - Commonwealth Stadium
Sunday, August 25 2024 - Edmonton, AB - Commonwealth Stadium
Friday, August 30 2024 - Seattle, WA - Lumen Field
Sunday, September 1 2024 - Seattle, WA - Lumen Field
Friday, September 20 2024 - Mexico City MX - Foro Sol***
Sunday, September 22 2024 - Mexico City MX - Foro Sol
Friday, September 27 2024 - Mexico City MX - Foro Sol***
Sunday, September 29 2024 - Mexico City MX - Foro Sol
Show 1 Support Europe: Architects & Mammoth WVH**
Show 2 Support Europe: Five Finger Death Punch & Ice Nine Kills
*Five Finger Death Punch/Ice Nine Kills play show 1 in Paris, Architects & Mammoth WVH play show 2 in Paris
**Volbeat replaces Architects on show 1 in Gothenburg
Show 1 Support North America: Pantera & Mammoth WVH***
Show 2 Support North America: Five Finger Death Punch & Ice Nine Kills
***Greta Van Fleet replaces Pantera on show 1 both weekends in Mexico City